ARMS FOR DEFENSE-CONCEALED WEAPON & PISTOL SAFETY COURSE
Class Times:
Saturday Class begins at 8:30 AM & Concludes around 12:30 PM
Weekday Class begins at 3 PM & Concludes around 6:30 PM
Tuition Includes:
Gun usage, ammunition & target Advance Registration & Seat Deposit Required
Attire & Materials:
NO low-cut tops or open-toed shoes. If you own your concealed weapon, unload it and bring it with you. Also,
• Eye & Ear protection will be required (rental fee $3 Set)
• Range Fee paid directly to FFA of $15.00*
Classroom instruction is conducted in our store and will last about 3 hours.
Upon completion of the classroom instruction, you will need transportation to the Florida Firearms Academy where we will administer the live shooting exercise. After demonstrating your ability to safely handle and discharge a firearm, you will receive the Certificate of Completion necessary for your Concealed Weapon Permit Application. Successfully completing the required course does not guarantee your approval for a Concealed Weapon Permit, inasmuch as the application process and approval is administered by the Florida Department of Agriculture.
The class will conclude at the Florida Firearms Academy, but you may remain there and continue your range practice afterward without paying an additional fee-so bring all your firearms! Florida Firearms Academy is located at: 13317 W. Hillsborough Ave, Tampa, FL 33635 (6.5 miles east of the store). Telephone Number is: 813-221-3473
We are grateful that you have chosen Arms For Defense for your firearm training. Our goal will be to build your confidence and proficiency with a firearm so that by the conclusion of your class, you may successfully protect yourself and others around you in the event of a threat of death or serious bodily harm as allowed by Chapter 776, Florida Statutes.
29176 US Hwy 19, N, Clearwater, FL 33761 Telephone: 727-375-4867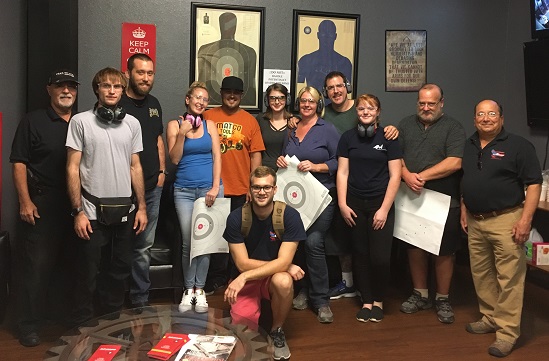 CWP class 11/20/17
Pinellas County Gun Shop
Highly Rated concealed weapons permit classes…
727-375-4867
**************************************
Training
Handling a firearm properly and safely is a must, and that is why we offer firearm training classes by NRA Certified Instructors. Classes are offered on weekends and weekday evenings to accommodate most anyone's busy schedule.
3 Golden Rules of Gun Safety
1. ALL GUNS ARE ALWAYS LOADED
2. ALWAYS KEEP YOUR FINGER OFF THE TRIGGER UNTIL READY TO FIRE
3. ALWAYS KEEP YOUR GUN POINTED IN A SAFE DIRECTION
Practicing these three simple golden rules of gun safety will assure that no one will ever be injured, even in the event of an accidental discharge.